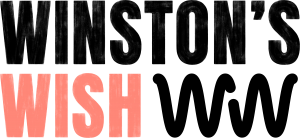 During 2019 I'm tackling 19 different events raising money for Winston's Wish. They're a wonderful charity who do great work supporting children and their families after the death of a parent or sibling. They're Gloucestershire based but work across the country. Some of their most recent work has seen them supporting children affected by the Grenfell disaster.
Why Winston's Wish? When I was a Head Teacher I referred various children to the charity over the years and was always struck by the difference the charity made. Out of such times of loss can actually emerge a message of hope. Their loss will always be a part of them but with the right support these young people can go on to live rich, fulfilled and successful lives. This is one of the most devastating losses a child will ever face but if you listen to the experience of people such as Livvie, Dan or Jack and you'll see just what I mean. The hope shines through.
My events are going to be a bit of a mixture. They'll include half marathons, marathons and ultras. I'll be getting on the bike too, plus some long distance swims. I'll start though with the Fan Dance, the endurance march used for SAS training purposes in the Brecon Beacons. I'm planning a race report after each event plus regular progress updates. On each event I'll be accompanied by Winston, a small but beautifully formed teddy who probably deserves his own twitter account. He'll be with me every step, pedal and stumble of the way. (I'll work out the swimming arrangements later.)
Another part of what I'm doing is simply spreading the word. As a volunteer for the charity I'll be giving assemblies in schools and talks to different groups, helping spread that message of hope. Another aspect of Winston Wish's work is the support they provide to adults bereaved as children. That resonated with me, given that my Mum died when I was a boy. It might resonate with you too. Get in touch if you want to know more about these talks.
What difference would your donation make?
£15.50 would cover the cost of a memory box.
£25 could find the cost of one Helpline call with a specialist trained practitioner
£30 could fund a special memory box for 2 children attending a Winston's Wish day group.
Whatever your donation, large or small, you'll know that you'll be helping give bereaved children hope for a brighter future.
If you would like to give a donation please visit: